Responding to Special Needs
Occasionally, the Grand Rapids Public Schools or its students have a need outside the scope of academics that is nonetheless a barrier to full and active participation in learning. On a case by case basis, the Grand Rapids Public School Foundation will develop a special initiative to address these critical needs.
Currently, the Foundation has three special initiatives:  GR8 Sports, Great Kids; The Teresa Weatherall Neal Principals Discretionary Fund and the Coit/Civic Theatre Project.  
Learn more about GR8 Sports, Great Kids here.
Teresa Weatherall Neal Principals Discretionary Fund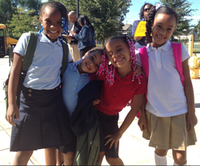 The Student Advancement Foundation provides these funds, at the school principal's discretion, to resolve urgent or essential needs of individual students.  Principals' Student Support funds are typically last resort and are only granted when no other community resource is available to help.
During the 2019/2020 School Year, the Foundation made grants totaling $22,819 through the Principal's Student Support Fund.  Granted requests included:  School uniforms, dentist appointments, attendance challenge incentives and special school-wide enrichment trips or experiences.
Coit/ Civic Theatre Project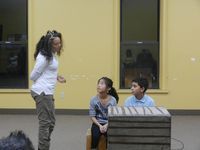 $25,000 Grant funding to the Grand Rapids Civic Theatre and to the Grand Rapids Public Schools to support an intensive theatre program for the students of the Coit Creative Arts Academy.  Over 20 third graders participate in an after-school theatre intensive at Civic Theatre learning about all aspects of theatre management.  15-20 fourth and fifth graders participate in Civic Theatre's nationally-recognized School of Theatre Arts after-school classes with other students from throughout Kent County.
Coit School focuses on students' needs, interests and talents by integrating the arts into all subject areas. Over 86% of the students receive federal free or reduced school lunch and face tremendous access barriers related to poverty.  This program removes the economic barriers and allows Coit students to participate alongside their peers from other surrounding school districts in this award winning theatre program. This program covers the cost of the program, transportation to the Civic Theatre and home each night of class and snacks for participating students.