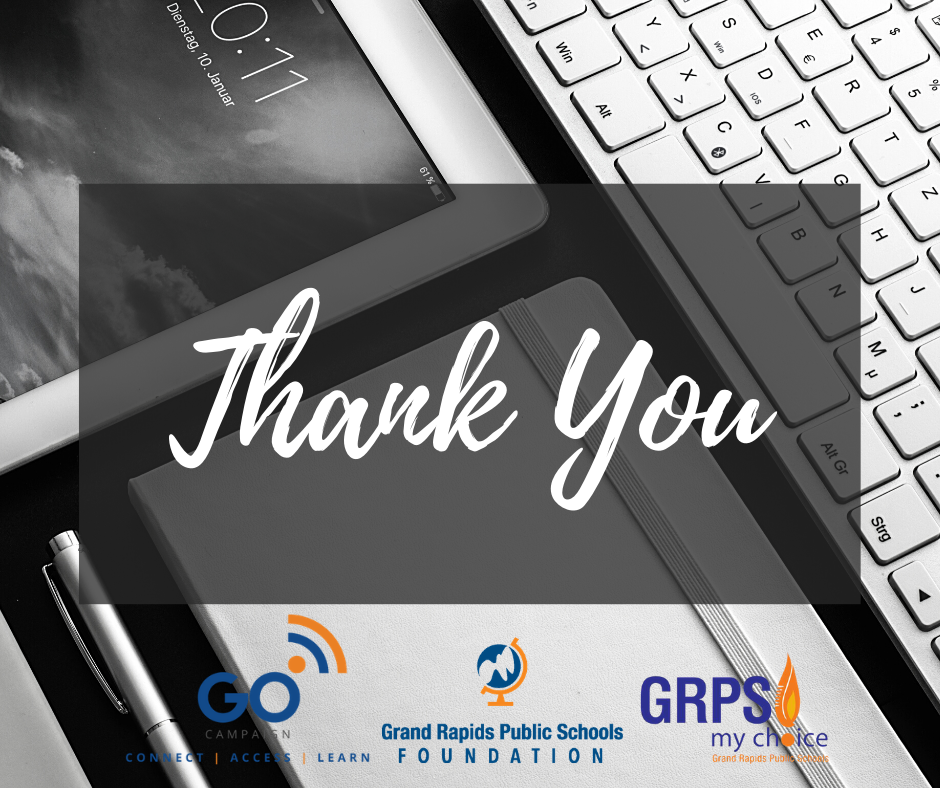 GRAND RAPIDS – At its regular board meeting, the Grand Rapids Board of Education formally recognized the financial supporters who made spring distance learning possible. In March, Governor Gretchen Whitmer issued an executive order closing schools for a three-week period in response to the COVID-19 outbreak. Governor Whitmer extended that order through the end of the school year in April. The Grand Rapids Board of Education and Grand Rapids Public Schools (GRPS) leadership realized they needed to respond quickly to ensure equitable access to education during that difficult time.
A survey issued in early 2020 found that 30 percent of student households did not have a reliable computer and/or internet access, making distance learning challenging for a large number of students. Therefore, GRPS knew it would need to take steps to ensure each student had access to a computer or iPad and had internet access at home, both of which were costly. Due to budgetary constraints, community support was necessary to ensure equitable delivery of distance learning.
"Time and again, I am amazed at the way Grand Rapids comes together to address community challenges," said Board President, Kristian Grant. "COVID-19 presented a unique challenge, one for which our District and families had little time to prepare. GPRS developed a Continuity of Learning Plan which involved distributing computers and iPads, as well as distributing internet hotspots and covering the cost of Comcast's Internet Essentials program for families in need. The community came together quickly to ensure students could continue their education during the shutdown."
In total, GRPS and the GRPS Foundation were able to raise more than $530,000 through their GO! Campaign to support distance learning in the spring and address inequitable access to devices and the internet. Supporters included the CDV5 Foundation, Daniel & Pamella DeVos Foundation, Danielle Rowland - State Farm Insurance Agent, Dick & Betsy DeVos Family Foundation, Doug & Maria DeVos Foundation, Fred Keller, Jandernoa Foundation, John and Nancy Kennedy, Lake Michigan Credit Union, Michigan College Access Network, O'Donovan Family Foundation, Peter C. & Emajean Cook Foundation, Kent ISD, PNC Foundation, Steelcase Corporation, Steelcase Foundation, Becky Knack, GMB Architecture, and Advance Packaging.
The Grand Rapids Board of Education wishes to thank the community for meeting the needs of the city's students. "The spring was a challenge for everyone. Our teachers, staff, administrators, families, and students rose to the challenge," said Grant. "This would not have been possible without the generosity of the community. As GRPS plans for the fall, given the uncertainty of the COVID-19 pandemic, the experience gained in the spring will strengthen the District's ability to serve the community's children."