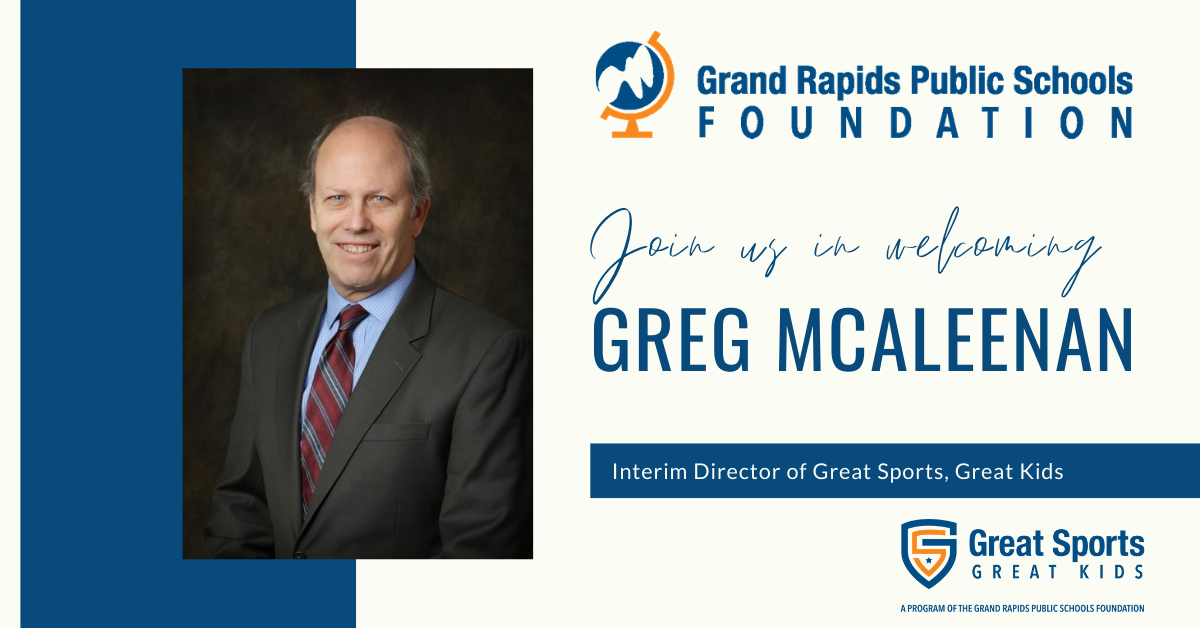 The Grand Rapids Public Schools Foundation (GRPSF) announces the appointment of Greg McAleenan as Interim Director of Great Sports, Great Kids. Great Sports, Great Kids is a program of the GRPSF and exists to make sports available to all K-8th grade Grand Rapids Public School (GRPS) students, at school and after school regardless of ability to pay. 
McAleenan brings to this role a wealth of sports and fundraising experience. McAleenan is a graduate of Williams College and the University of Michigan Law School. He is also a member of the Sports Lawyers Association. In addition to representing numerous athletes and organizations in their sports endeavors, McAleenan has served as Vice President for Advancement at Aquinas College and Chief Development Officer at Hope Network.
"I have devoted a significant portion of my professional life to helping students of all grades access athletic opportunities. This position is an extension of that," said McAleenan. "In this role I will work hard to expand community-wide support in ensuring every K-8 student can access athletics at GRPS."
McAleenan replaces Cara Jones as Interim Director of Great Sports Great Kids, who resigned her position in early September.
"We are excited for Greg to be joining the Foundation team," said Sally Andreatta, Executive Director of the GRPSF. "As a successful local sports attorney, community leader, and fundraising professional, Greg brings an abundance of expertise and passion to support the growth and advancement of the Great Sports, Great Kids vision."