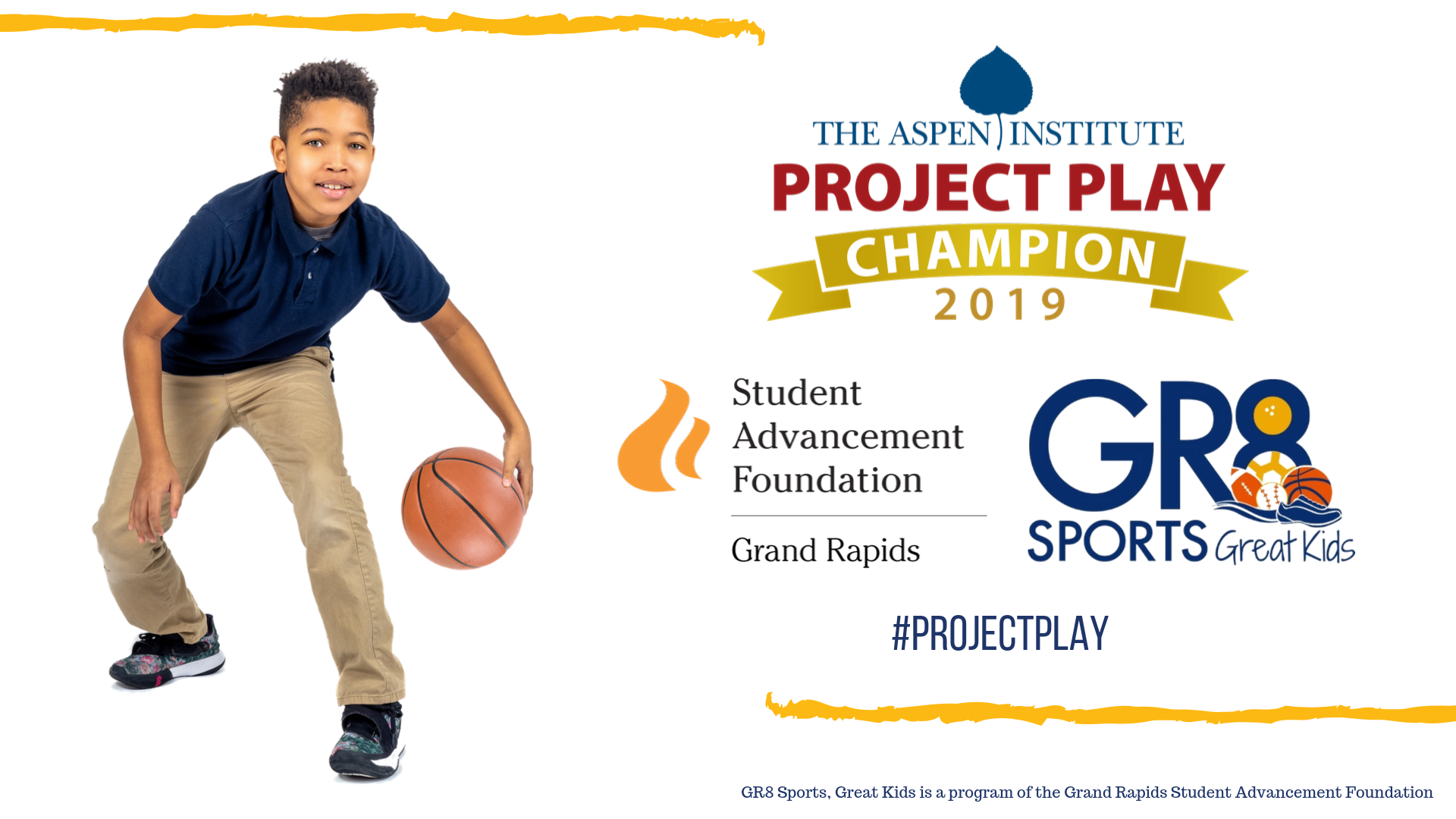 GR8 Sports, Great Kids,  is thrilled to announce our selection as the Aspen Institute's 2019 Project Play Champion. This honor is part of a cohort of organizations making new, meaningful commitments to health and wellness in alignment with the strategies of Project Play.
A national campaign, The Aspen Institute's Project Play develops, applies and shares knowledge that helps build healthy communities through sports. The institute works with leading organizations to develop solutions to foster quality sports activity for all youth, regardless of zip code or ability.[1]
The Project Play honor recognizes organizations and leaders – at a national level – who are committed to connecting youth, sports and health in a positive way. Recognizing the rising concerns associated with low physical fitness and the implications of such, Project Play drives progress by developing initiatives and sharing that knowledge to build healthy communities through sport.
"As a community we understand the importance physical wellness has on students not only today, but also their future," said Sally Andreatta Executive Director of the Grand Rapids Student Advancement Foundation. "Being recognized in this cohort is a cause for celebration both as a program and as a community."
Reinforcing healthy, well-rounded kids both on and off the field, The Grand Rapids Student Advancement Foundation's GR8 Sports, Great Kids program will be recognized at this year's Project Play Summit in Detroit, Michigan. As a program with a sole focus on providing athletics to Grand Rapids Public Schools (GRPS) K-8 students free of charge, GR8 Sports, Great Kids ensures accessibility to sports regardless of financial situation – which means every student has access to participation.
Recently expanding its support of sports programming for both middle school and elementary school kids, this honor will create a new elementary level coordinator position. This position will be responsible for training volunteer coaches, managing communications with parents and guardians, and track the thousands of athletes that participate in the program each year. The coordinator will integrate the "How to Coach Kids" course – an aggregate of best coaching resources for youth from the Project Play- into volunteer coach training. This will reach the 60 coaches who serve the 3800 GRPS student participants in the program.
"Our goal has always been to positively promote physical wellness at GRPS," said Cara Jones, Director of the Grand Rapids Student Advancement Foundation's GR8 Sports, Great Kids program. "Being recognized as a Project Play Champion provides us the visibility, we need to get this important work done. Nonetheless, Grand Rapids should feel proud – out of all the communities in the country we are being recognized as one that is taking on kids' physical wellness and sports. We are doing this right."
The 2019 Project Play Summit takes place September 17-18, 2019 in Detroit, Michigan. More than 500+ are registered to attend this sold-out Summit, making it the largest Summit in Project Play history.  Speakers include former NBA star Chris Webber, former UCLA gymnastics coach Valorie Kondos Field, and New York Times Columnist David Brooks with ESPN host/reporter Cassidy Hubbarth as emcee.